Week 9: Copenhagen, DK | Malmö, SWE
Day 57: 16 July 2018
Our class was able to take a tour of Tietgenkollegiet, a dorm for Copenhagen students. Built in 2005 by Lundgaard & Tranberg, it is arranged in a circle with individual and double rooms that share cantilevering living room and kitchen space. The public spaces all face the center so that residents can see where activity is occurring. Unlike in the US, the residents of the dorm go to all different universities in Copenhagen and one of them gave us a tour of the buildings and her room. It was very interesting to see the Danish version of something that is so familiar to me, a dorm.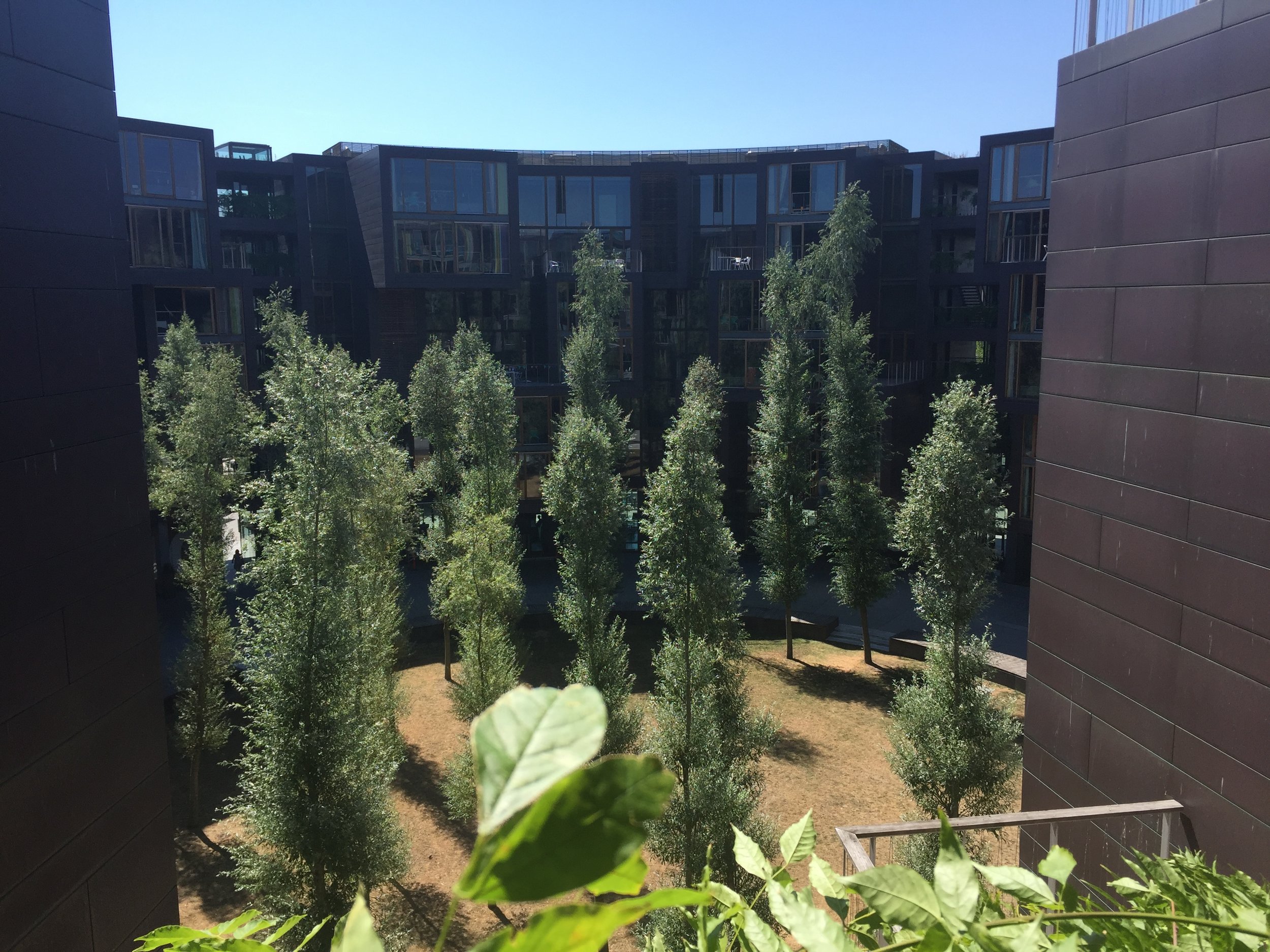 Day 58: 17 July 2018
Along with a friend, I spent the day working in a local cafe before heading out for "the best burgers in the world" at Gasoline Grill.
Day 59: 18 July 2018
For dinner we went to a cool area called Reffen. It is an area that used to be heavily used as a large port for the city, but now has some space along the harbor dedicated as public space with a local food market. The whole space was super cool, very relaxed, and well-used despite being a bit out of the way. Not far away, we were able to see Copenhill power plant by B.I.G. Architects. It's not fully completed yet but is a power plant that once finished will burn enough trash to create power that Denmark will have to import trash to feed its capacity. Additionally, it doubles as a ski slope that is set to open this coming winter.
Day 60: 19 July 2018
Despite having been in Copenhagen for so long, I still hadn't seen one of its most popular tourist attractions: The Little Mermaid. I went with a friend and we saw the statue, the old castle, and the only Anglican church in Denmark. The statue was built in 1913 by Edvard Eriksen for Hans Christian Anderson's Little Mermaid, which later inspired Disney's Ariel.
Day 61: 20 July 2018
After class, I relaxed with a friend and continued to get some work done before heading in to our last week of class.
Day 62: 21 July 2018
I went with one of my roommates to Malmö, Sweden for the day. It is only a short train ride across the Øresund Bridge, which was opened in 2000 and designed by engineering firm COWI. The bridge starts above the water then lands on an artificial island and tunnels under the water the rest of the way. In Malmö, we went to Malmöhus (which included an aquarium, multiple art galleries, and the old castle), walked through the historic Kingsparken, saw the Malmö City Library by Henning Larsen, got dinner at Little Torg, and walked around a bit before heading back over the bridge.
Day 63: 22 July 2018
Ahead of our final week of studio, I took this day to get a lot of work done on my project.