Week 6: Oslo, NOR | Hamar, NOR | Stockholm, SWE | Copenhagen, DK
Day 36: 25 June 2018
We had our first full day in Norway and visited a few vastly different places.
My favorite visit in Norway was the ruins along a beautiful lake in Hamar. The original, medieval fortress-like home for a bishop in the 16th century that became a barn for a farmer in the 18th century, was more recently turned into the Hedmarks Museum by Sverre Fehn. The neighboring cathedral was beautifully enclosed by Kjell Lund. Now they act as historically preserved ruins and a museum of old rural Norwegian life. The new architectural interventions were excellently done and only lightly touched the existing ruins. We had a great guide and the highlight of the visit was when she sang in the glass cathedral enclosure, which had great acoustics.
Afterward, we took a quick stop at the Edward Munch Museum. He was an impressionistic artist in the 20th century and painted mostly about himself and his own life, with some exceptions. A new, much larger Munch Museum is currently under construction, but we visited the current one.
That night, a few of us headed back to the opera house for a 3.5 hour performance of theater dance. It was a style I had never seen before and consisted of short stories mostly revolving around death with both modern dance and acting. Luckily for us, the vast majority was in English. Overall, I really liked it. On the way, we saw a local church from 1690.
Day 37: 26 June 2018
Most of our day was spent driving from Oslo, Norway to Stockholm, Sweden.
Along the way, we stopped at Sandgrund, a museum of watercolors by Lars Lerin. The exhibition was very good and the museum was packed with visitors.
Once in Stockholm, we walked down a busy pedestrian street in the old town and got a good dinner. Along the way, we saw the old town of Gamla Stan which was founded in 1200 and the newer Sergels Torg and Kulturhuset by David Helldén,
Day 38: 27 June 2018
For our first full day in Stockholm, we visited a few major sites.
Our first stop was the Stockholm Library by Gunnar Asplund. Built at the beginning of the 20th century, it was revolutionary as a public library and for the architectural style of Stockholm. It was especially exciting as I had just recently done research on the library as part of precedent study for our own library project with a group of fellow classmates. Fortunately, it was just as impressive as our research suggested it would be.
After a short walk and a ferry ride, we arrived at a modern art and architecture museum, Moderna Museet and Arkdes by Rafael Moneo. The architecture exhibit was super cool, but the claymation art exhibit was disturbingly strange. The permanent art exhibit had some nice paintings and interesting picture windows that turned some of the views into art themselves.
Our day ended in Skansen, a park dedicated to preserved buildings, animals, and attractions that create an experience of a rural town in early Sweden. We were there past the closing of many of the larger buildings, but still enjoyed exploring the park.
Day 39: 28 June 2018
We had another big day with multiple sites in and around Stockholm.
First was the Vasa Museum by Marianne Jakobbäck and Göran Månsson . This museum was dedicated to a 16th century Swedish navy ship. It had been extremely well preserved because the ship was lavishly built and set sail fully stocked with crew on board before sinking just 500 meters off the coast because of an engineering miscalculation of the ship's proportions. Centuries later, the wreck was located and pulled up. It is continuously being preserved and is on display in the museum built specifically for the ship and the exhibitions its contents have created. It was very impressive and equally interesting to learn about.
For lunch, we visited an area of Stockholm known as SoFo. The weather was unusually hot for Stockholm so we stuck to the shaded park and relaxed as we sketched.
We then went to Woodland Cemetery designed by Gunnar Asplund and Sigurd Lewerentz. They collectively designed the site plan, each created a chapel, and Asplund designed the crematorium. Together they focused on universal motifs and abstract design because the cemetery was one of the first to be un-religiously affiliated. Overall, the atmosphere was very calming, but it still felt weird to be visiting a cemetery.
After dinner, our final stop of the day was to Fotografiska, a photography museum of rotating exhibits. While many of the photos were great, the view of the canals on the way there was definitely the best part.
Day 40: 29 June 2018
We finally got some typical Scandinavian weather with a chillier day. Although I'm not sure any of us really preferred it.
Our first visit of the day was to a sustainable neighborhood, Hammarby Sjöstad planned by Jan Inghe-Hagström, around canals outside of Stockholm. Originally designed to be an Olympic village when Stockholm had placed a bid to host the 2004? Olympics, they are now residential units for young and culturally diverse residents. Generally, it was interesting to see the site planning of buildings and shared community spaces as well as incorporation of the natural landscape.
Then, we continued on to Artipelag by Nyréns Arkitektkontor. This was a large, privately owned museum nestled into the woods of a small peninsula. The interior exhibit was for the Bloomsbury Group and was not my personal taste. However there was an exterior exhibit along a hiking trail that I really liked, along with the natural coastline.
Back in Stockholm, we visited the City Hall by Ragnar Östberg Much newer than it is designed to look, it fit in well with the context from the exterior and housed many surprising spaces on the inside. The most interesting was the gold hall covered in murals about Sweden made of real gold tile. The main wall depicted Sweden as the mediator between the east and west of the world and even included the US flag and the Statue of Liberty.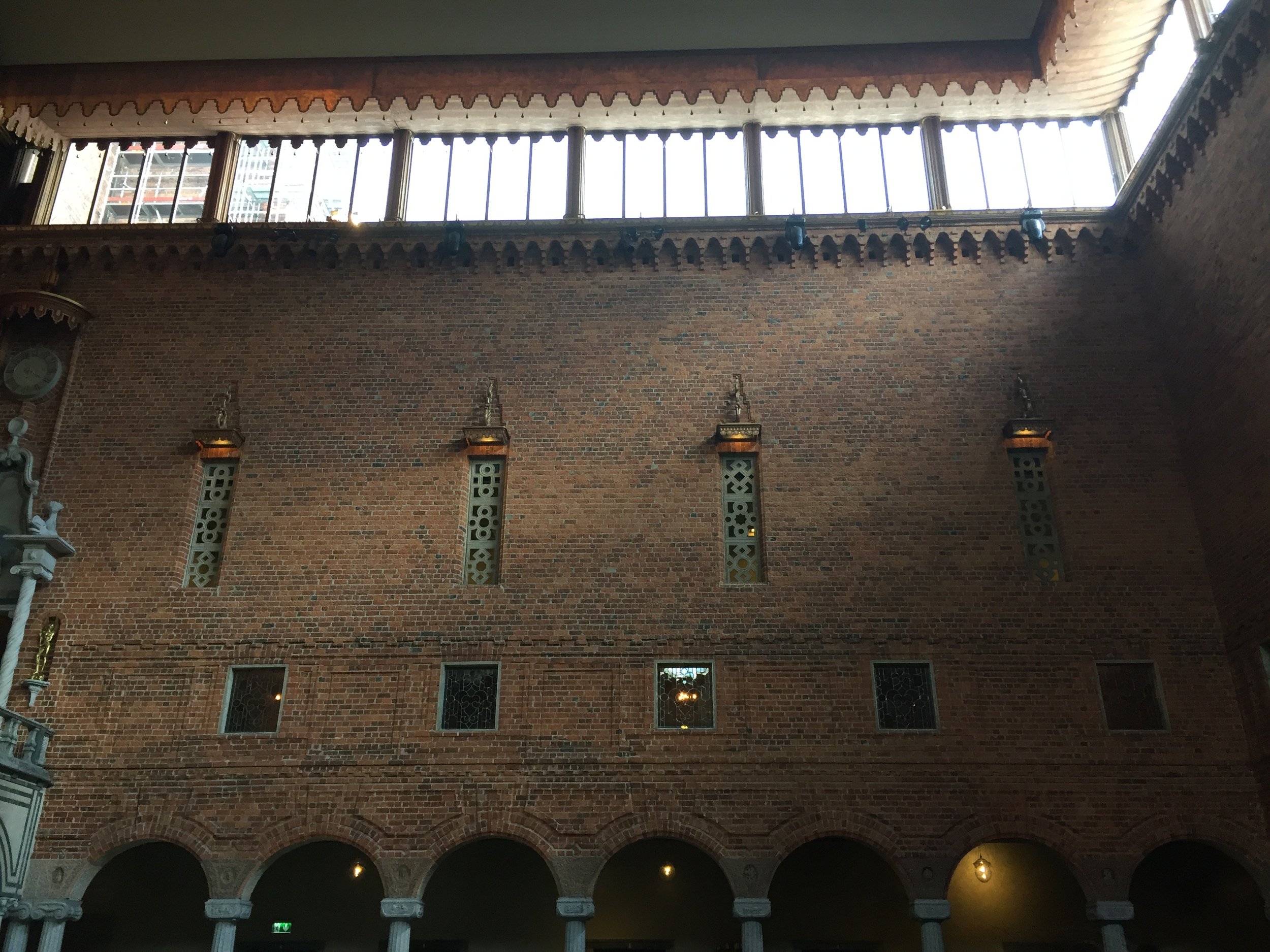 We finished off the day at Boulebar with good food, sketchbook sharing, and a friendly game of pétanque (basically French bocce ball). My team won of course and they actually gave us a medal and a coupon for a free return game.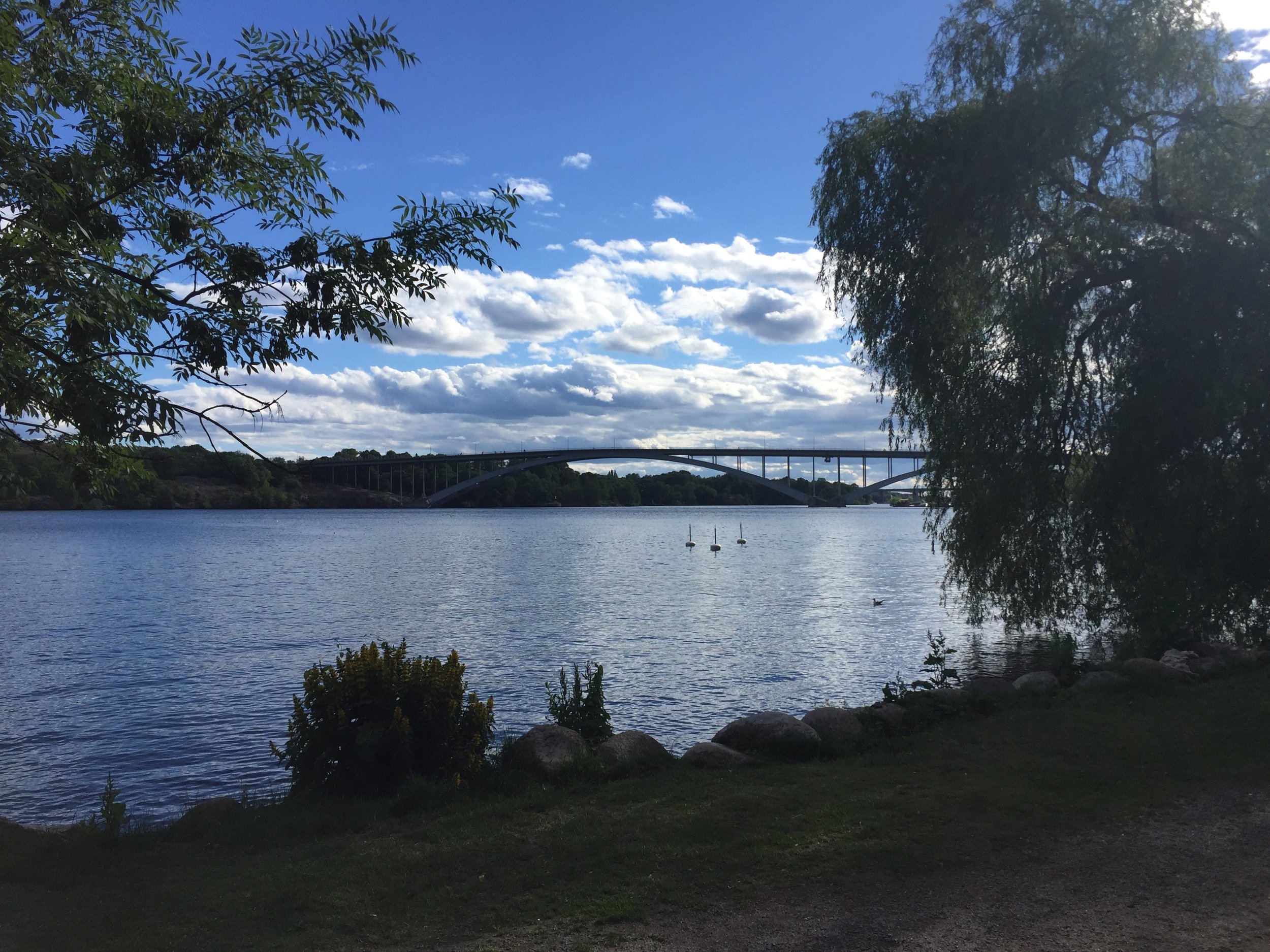 Day 41: 30 June 2018
The final day of our trip was primarily a long drive from Stockholm back to Copenhagen with a few stops along the way.
First was Tåkern, a nature reserve that was part of Sweden's national Naturum program. The visitor center and auxiliary overlooks were designed by Wingårdhs and made of reeds from the site, a traditional Scandinavian roofing technique. Beyond those, the reserve was quite peaceful despite the constant squawking of the many birds that occupied the marsh.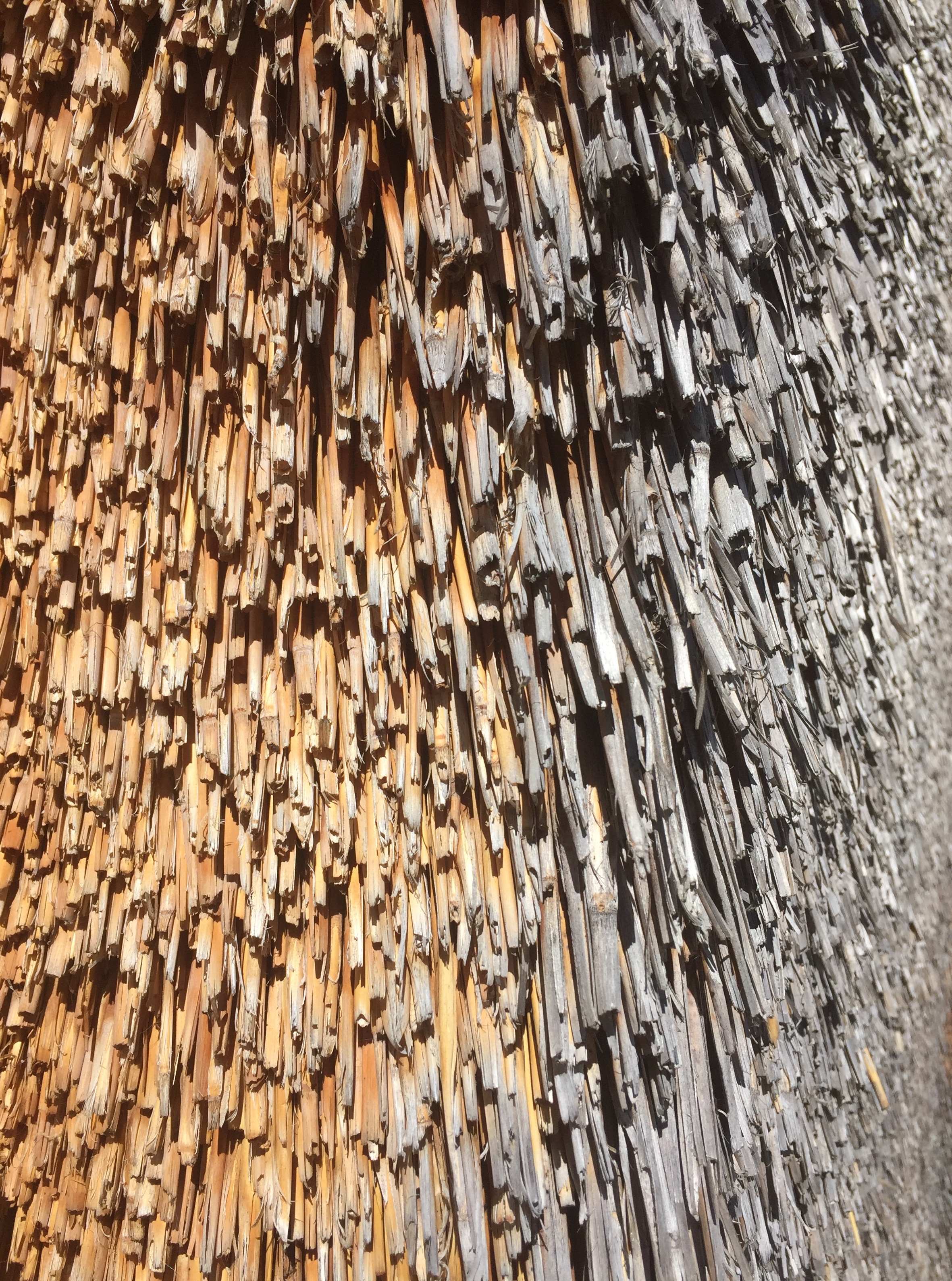 Next, we got a delicious buffet lunch at a cute little town and explored the area for a little bit
Our final stop of the trip was the St. Peter Church by Sigurd Lewerentz. Made entirely of brick, it was primarily designed as a collaboration between the architect and brick masons on site as it was being constructed. This created some interesting conditions that likely wouldn't have occurred otherwise.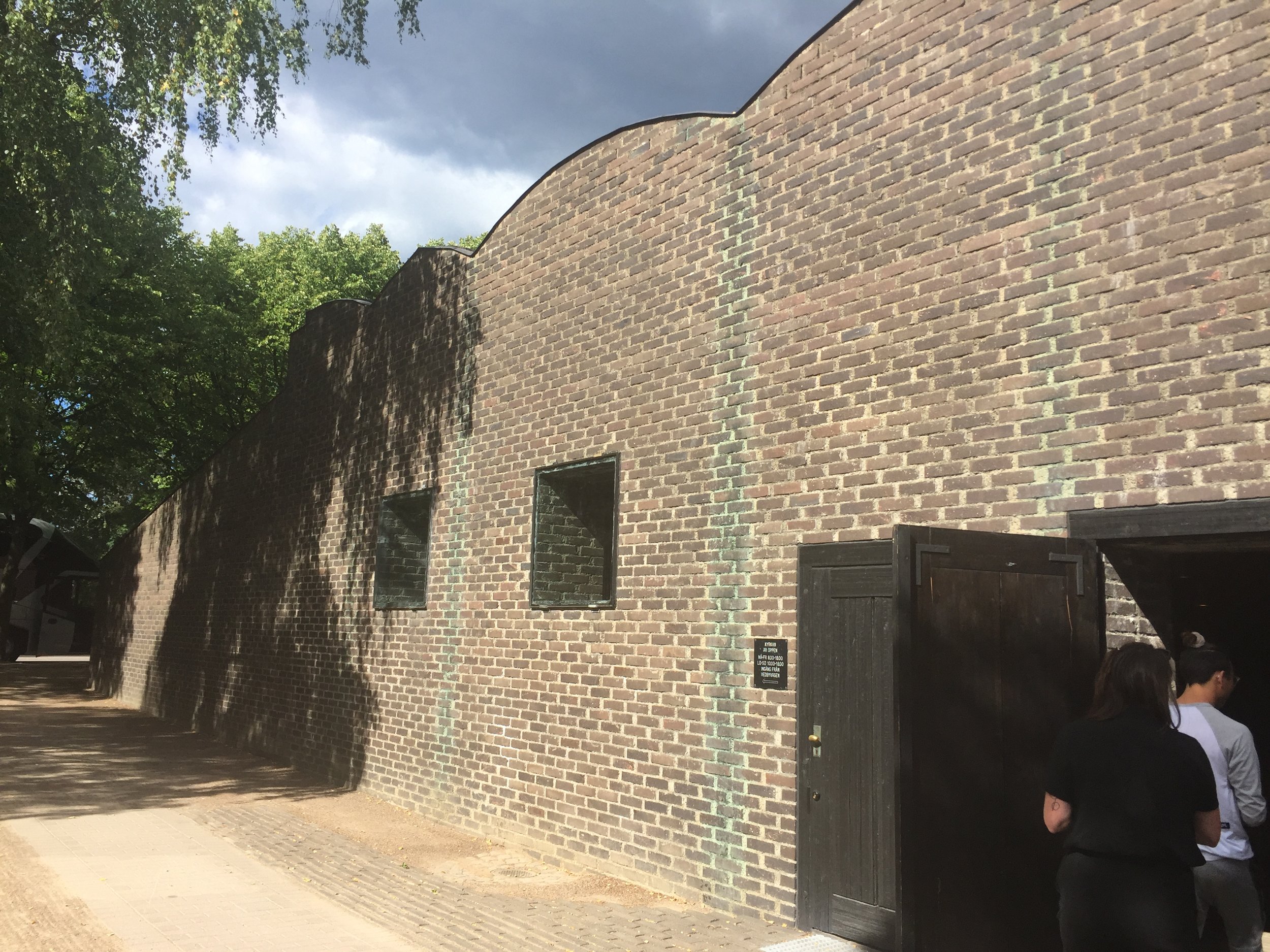 Day 42: 1 July 2018
Back in Copenhagen, my studio and I worked on a collaborative site model and hung out at the harbor before the Denmark v. Croatia World Cup game. We watched the game outside at the Danish Architecture Center by Rem Koolhous, and while it was quite exciting, it was super disappointing to lose after double overtime and a shoot out.